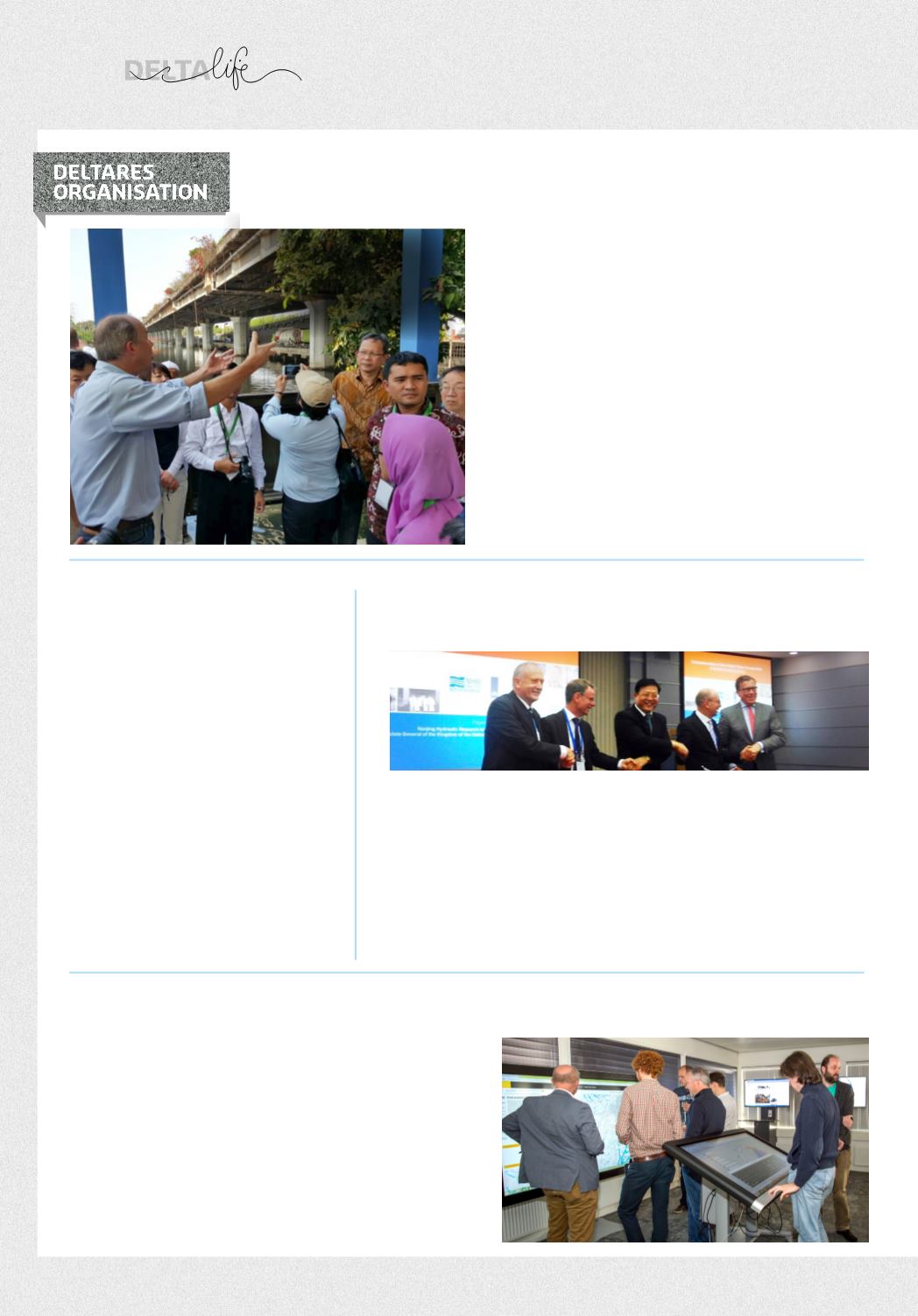 30
DELTARES, SEPTEMBER 2015
A ban on pumping up groundwater and the introduction of
appropriate legislation. These recommendations were one of
the outcomes of international discussions about land subsi­
dence and an important step in ensuring that Jakarta does
not subside further. Because, if no steps are taken, Jakarta will
drop to between three and five metres below sea level within
a few decades. Land subsidence will exacerbate the risk of
flooding, and damage to roads, buildings andmains systems
will increase along withmaintenance costs. The discussions
with international scientists were organised by the Indonesian
government in collaboration with Deltares. Land subsidence
is not a problem that is confined to Jakarta. Throughout the
world, the impact of land subsidence is becoming apparent in
more andmore delta areas. This round-table forumgave people
the opportunity to share their experiences with the reduction of,
and adaptation to, land subsidence in other countries.
COMBATTING LAND
SUBSIDENCE IN
JAKARTA
Deltares has been selected to advise
the European Parliament about environ­
mental policy, climate change and
sustainable development. The support
will consist of briefings, in-depth ana­
lyses, research and workshops. The
consultancy work will be on an ad hoc
basis for the Environment, Public Health
and Food Safety Committee (ENVI) of the
European Parliament. Milieu, a consul­
tancy firm from Brussels, will lead the
consortium that includes Deltares.
DELTARES
SELECTED
TO SUPPORT THE
EUROPEAN PARLIAMENT
China has the largest system of
dikes and dams in the world. The
country's government wants to
invest more in the quality of the
system. Working with China in this
area is interesting because it makes
it possible to test innovations at a
large scale. That is also important
for the Dutch water sector and so
Deltares has entered into agree-
ments with the Chinese Ministry
of Water Resources and the Nanjin
Hydraulic Research Institute to
intensify their joint activities, learn
from one another and apply each
other's knowledge in practice.
JOINT KNOWLEDGE
DEVELOPMENT WITH CHINA
The new Deltares interactive data laboratory - the iD-Lab - is
open to researchers, public bodies, consultants and policymakers.
This demonstration, training and research centre provides fast,
real-time access to Deltares data, models and software such as
Delft3D, Delft-FEWS and GLOFRIS. The lab consists of a large
control room and a demonstration room linked to a modern ICT
platform. Large quantities of data can be combined and presented
clearly. The facility is also open to Deltares partners and clients
in the civil and hydraulic engineering sectors. For more infor­
mation, see the article on page 24.
REAL-TIME ACCESS TO DATA IN NEW ID-LAB